--StevenCMansfield 12:52, 27 June 2009 (UTC)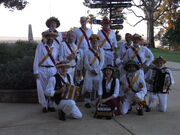 Location:
Perth, WA, Australia
Dances:
Cotswolds (various traditions)
Organizations:
Australian Morris Ring
Active:
1973-present
Contact:
S. Mansfield (08)9478 6968(H)

0400 731 049(M)

Web site:
http://perthmorrismen.org/
Inroduction
The Perth Morris Men mostly dance Cotswold Morris, with one Sword and a few Border dances. The side was founded in 1974, the first public performance being in Hay Street on a Saturday in March. To the best of our knowledge we (Perth Morris Men) were the first side in Australia. For a more detailed history of the Perth Morris Men refer to http://perthmorrismen.org/history-of-morris-men/history-of-the-perth-morris-men/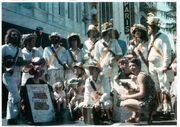 Visit our web site http://perthmorrismen.org/
Practice
Perth Morris Men practice in the Seaward Region Guide Hall, Monash Avenue, Nedlands from 7 to 9 PM on the 1st and 3rd Wednesday of each month. Please contact the squire Steven Mansfield (08) 94786968(H) 0400 731 049(M) or email squire@perthmorrismen.org) or the foreman David Scott (0403 983 338 or email foreman@perthmorrismen.org) for more details. New members are very welcome.
An example of the dances that were videoed during a practice session can be found on Youtube http://www.youtube.com/results?search_query=perth+morris+dancers+western+australia&search_type=&aq=f
Ad blocker interference detected!
Wikia is a free-to-use site that makes money from advertising. We have a modified experience for viewers using ad blockers

Wikia is not accessible if you've made further modifications. Remove the custom ad blocker rule(s) and the page will load as expected.